Microsoft Flight Simulator 2020 Emergency Training Application
I was playing around with the flight simulator 2020 emergencies, and felt like they are a bit too limited for really training on emergencies. since I´m a student pilot in real life, I would like to practice emergencies in the sim withouth knowing when they will happen, and at the moment it's only possible to set them in a timer
I´ve created a C# tool connecting to Microsoft FS2020 through Simconnect.dll to give me more flexibility, where I can either set an altitude range (emergency should start between 200 and 1500 ft for instance) or time range (between 5 and 60 minutes for instance) and it also allows me to check multiple emergencies where my app will pick one of them randomly, so that I don't know what emergency I will be facing.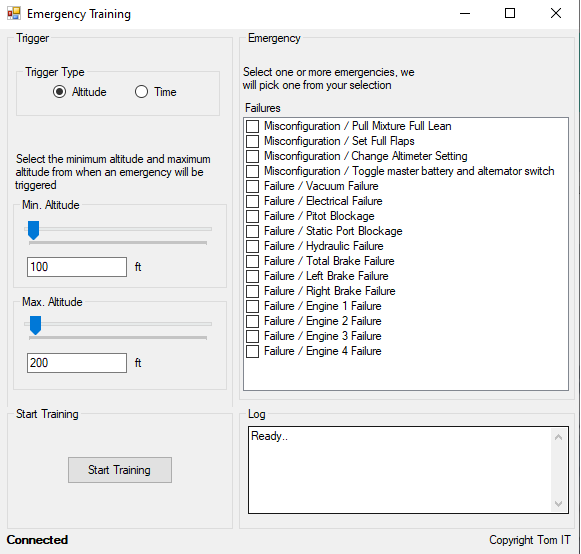 Download Application
Fill in below form to receive a download link!
I've decided to list the app here for free, but if you like it, consider buying me a coffee 🙂

If you don't see the form under this line, please disable your ad blocker it seems to hide it.