I've been looking for a reliable GPS tracker to track my personal items like a camera bag, car or my kid for some time now, but just couldn't find a perfect fit. Most of the GPS trackers have some major downsides, which are:
– Sim Card Required
– Short battery life (1-5 days mostly)
– Big
And Then there are the low battery bluetooth trackers like tile
I really like the concept of tile, but at this point it's just not feasable, at least not in the Netherlands. There is not enough coverage, because it's not used enough by dutch people. And when I do lose my camerabag or car, I need some piece of mind to know I will be able to locate it.
Because I work on some sensor products myself, and like low power arduino projects I thought it would be a great idea to use LORA for sending GPS data, because it would be low power & not require a simcard.
A few months back I found Invoxia which uses the LORA & SIGFOX network, which sounded like music to my ears:
GPS positioning, no distance limitation
No SIM card required, Invoxia GPS Tracker uses low power network and the subscription is included for 3 years!
Get notifications on your smartphone of entering and leaving customized areas
Invoxia GPS Tracker sends its position every 10 minutes when it is moving (depending on settings, network and coverage)
Display the precise route of a chosen period
Rechargeable through Micro USB; cable provided
The Invoxia GPS Tracker has a battery life of up to 6 months
I decided to order 2 gps trackers. At the time of purchase they were €99 each.
I've placed 1 in my car, and 1 in my camera bag. To put them to the test, and see how they work.
I've set both up to send data every 10 minutes and it looks like they only send data when a change is noticed (when the position is changed), this saves a lot of battery, although I'm not sure if they will send a location update every hour regardless of position change, to make sure the location is correct (because with LORA messages the sender can't know if the message has been received by a gateway yes or no) this would be prefered, and I will see if I can find out.
My holiday trip to France was a great way to see if there is enough coverage, to get a reliable signal.
My camera bag was on the backseat: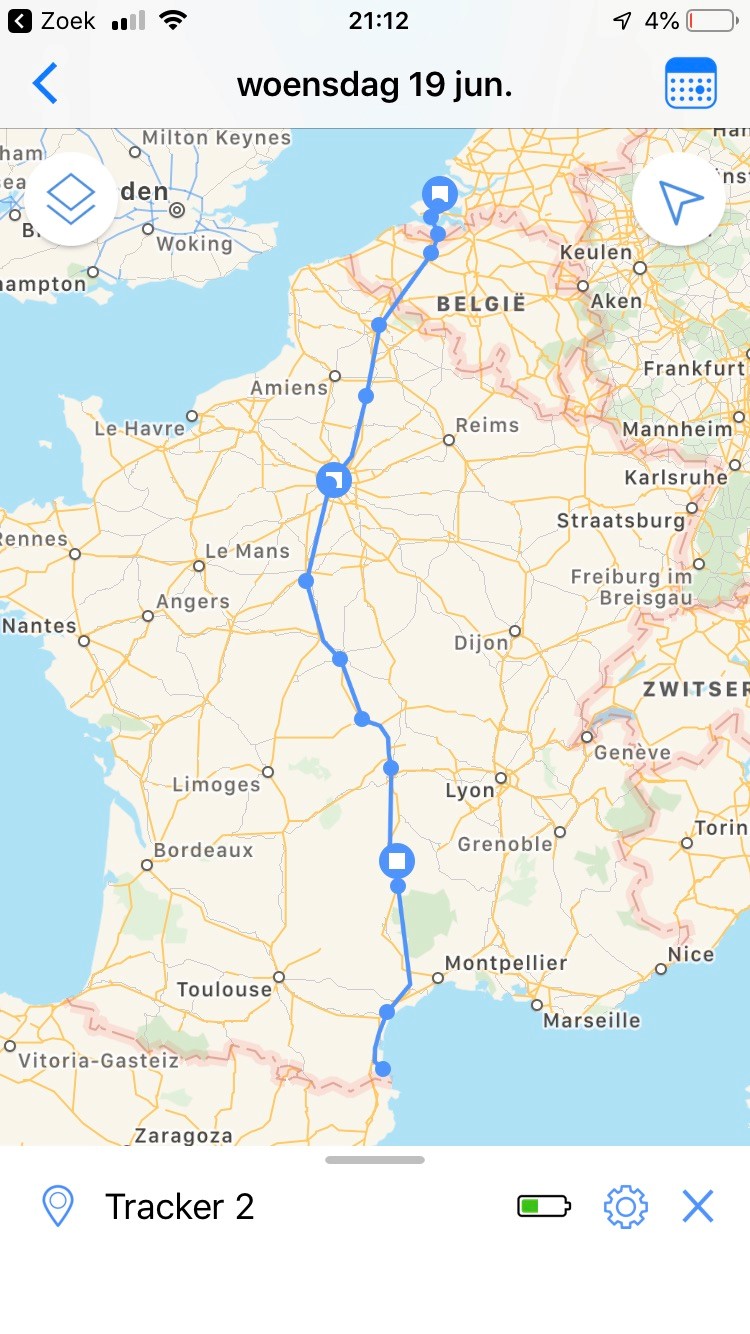 My Car Tracker, hidden in the cars body.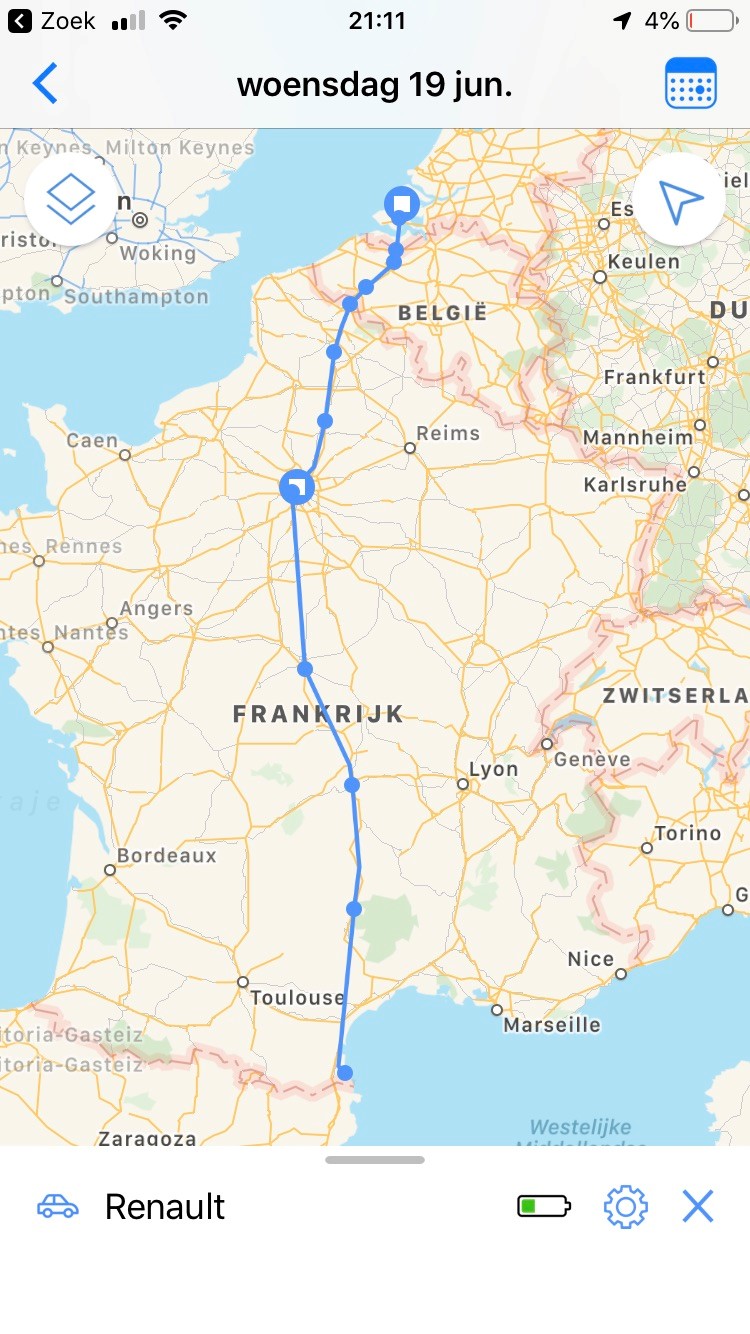 Result
My Car Tracker sent me 21 location points in the 16 hour trip (with a 3 hour brake in paris)
The Camera Bag tracker sent me 30 locatoin points in the 16 hour trip (with a 3 hour brake in paris.
It looks like the car tracker had some trouble to send the message or get a GPS location, this might be because it's hidden under the backseat near the steel frame of the car. But still I'm quite impressed with both, I'm quite sure I would've been able to find my bag if it was taken from me.
I like the stop Icon you notice in paris (and to the left of grenoble on the camera bag) which indicates the item is stationary at that point.
Batterylife
I have both trackers in use for exactly 30 days now, the camerabag tracker is at 39% and the car tracker is at 17% so 6 months seems a bit optimistic.
I didn't expect it to last 6 months, my car is driving every day, so locations needs to be sent daily, which resulted in the bigger battery drainage from the car tracker and then the 2 way holiday trip for both trackers will have increased battery usage as well.
Another cool feature is you receive an email warning when the battery get's below 20% I have received 2 emails now, and will just wait untill the battery get's at 10% to see how many days I can get out of it.
For children tracking I'm not totally convinced yet.
You will need to make sure the coverage is sufficient in your area, the push button on the device allows to instantly send a location message, and a push message will be opened within a few minutes on your phone, which is a good feature. It is ultra light, and fit's in a kids pocket, but it's not descrete enough to hide easily.